Read up on your career strategies
Apr 2nd, 2011 | By
admin
| Category:
Featured
Find some of the all-time best career questions and your complete guide to internship strategies. Books especially for JobsPage fans.
Breaking In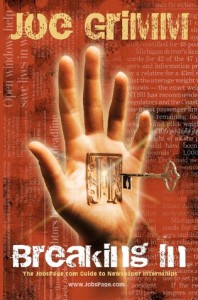 "Breaking In" is the insider's guide to landing — and acing — your newspaper internship. These are your strategies for applying, interviewing, succeeding and then using your newspaper internship to launch your career. This book is based on the www.JobsPage.com Web site, which Detroit Free Press Recruiting and Development Editor Joe Grimm created as a strategy guide to newspaper careers. Twenty recruiters, editors and journalists have contributed. They include: Richard Holden and Linda Shockley, Dow Jones Newspaper Fund; George Rede, The Oregonian; Bobbi Bowman, American Society of Newspaper Editors; Cedric Bryant, Gannett; Randy Hagihara, Los Angeles Times; Theola S. Labbe, the Washington Post; Reginald A. Stuart and Harry Walker, McClatchy; Walter Middlebrook, The Detroit News; Cathy Panagoulias, Wall Street Journal; Melissa Jordan, San Jose Mercury News; Don Hudson, (Jackson, Miss.) Clarion-Ledger; Kathy Pellegrino, (South Florida) Sun-Sentinel.
169 pages
PURCHASE (through Amazon.com)
The Best of Ask the Recruiter
"Ask the Recruiter" was a daily column, appearing on the Poynter Institute's Career Center, in which Joe Grimm answers journalists' career questions. You'll find chapters on applications, interviewing, internships, recruiters, newsroom culture and politics, career transitions and work/life balance.
Besides Joe's answers to readers' questions, you'll find guest essays by professionals from digital media, TV, radio, print, universities and private consulting.
They have experience at USA Today, the Chicago Tribune, the St. Petersburg Times, The Kansas City Star, the National Association of Hispanic Journalists, the Columbia University Graduate School of Journalism, Northwestern University, Arizona State University, Gannett, CBS, KQED radio, Poynter and Leading Edge Associates.
160 pages
PURCHASE (through Amazon.com)
Bringing the News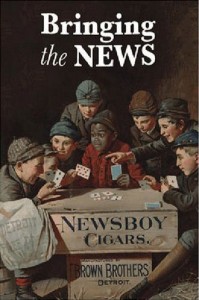 This is a colorful volume of century-old postcards that celebrate newsies in photographs and artwork.People have always craved the latest news, whether it was delivered from distant places by mail carriers or peddled on street corners by newspaper hawkers. This collection of newsies on postcards shuffles together "The Daily Mail" and the daily mail.
These century-old postcards celebrate newsies in photographs and artwork, in groups or singly, black and white or color. The newsboys-and girls, as well as a few adults-are almost always portrayed in hard-knock ways. Their feet and calves are sometimes bare and patches cling to their elbows and knees. They cover their heads with stocking caps or the floppy hats we still know as "newsboys." In romanticized cartoon images and photographs, smiles belie and deny the child labor and exploitation they endured.
Though adult contractors have replaced newsies and email and the Internet are replacing postcards and newspapers, if there is inside you a scrappy, survive-by-your-wits newsie, you'll enjoy this collection of cards and carriers bringing news in old-fashioned ways. All illustrate a time when street-corner entrepreneurship was treated as a sign of a resilient, we-can-make-it America.
31 pages
PURCHASE (through Amazon.com)